How can I get the best Morocco Sahara desert Tour? Because I receive this question so often, I decided to answer some important questions about what you should know before you go.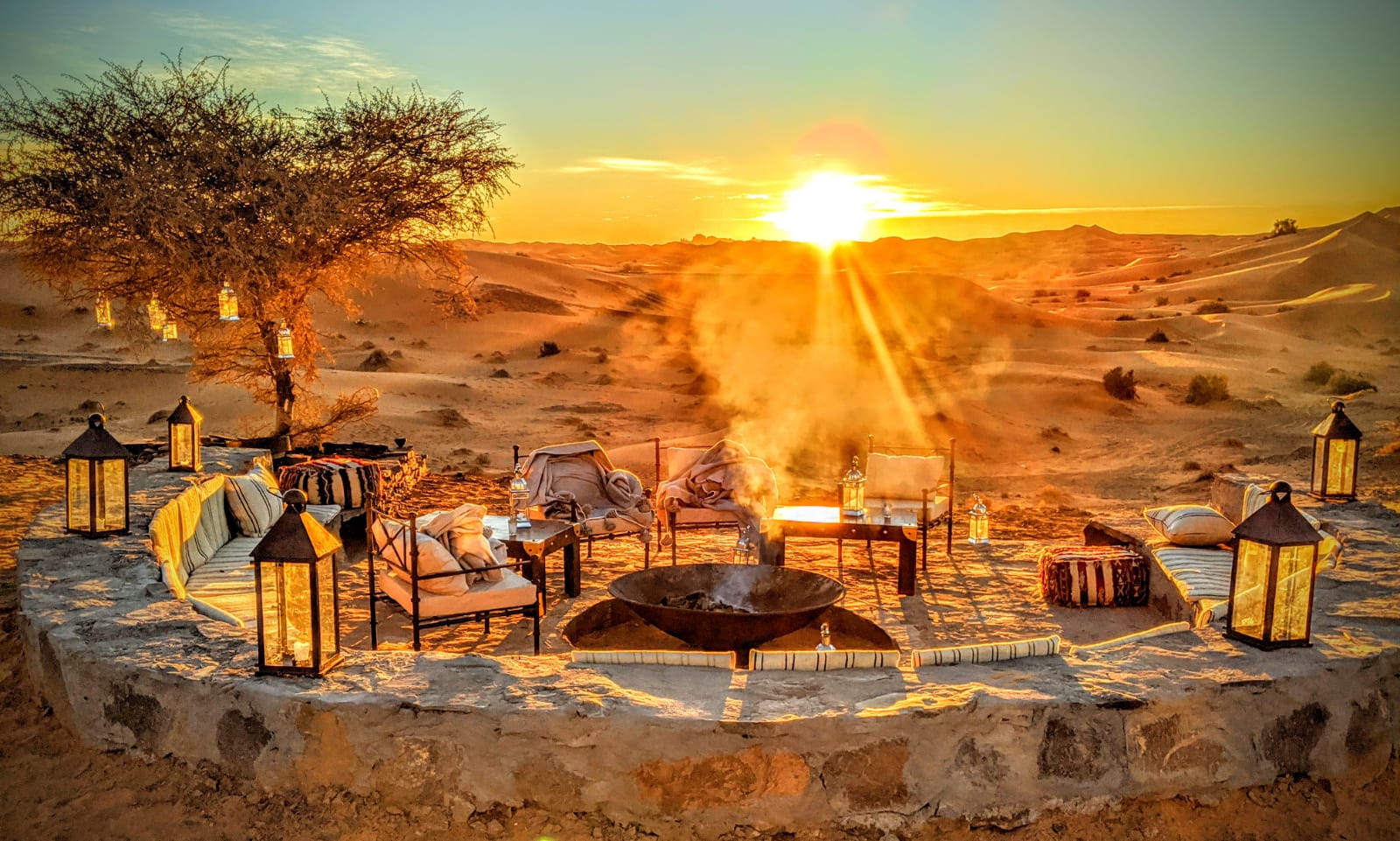 Craving for an unforgettable adventure in Marrakech that's full of thrills and mesmerizing sights? Then, make sure to take a fun desert tour from Marrakech!
A breath-taking and memorable trip, our desert tours will take you to the iconic Sahara desert, the Atlas Mountains, Barber Villages, Ouarzazate, and Merzouga.
Not only do you get to explore these attractions in Morocco, but you also get to do a ton of sightseeing. Furthermore, it lets you enjoy the spectacular desert sunrise and sunset views. At night, you can spend hours gazing at the thousand stars above you while immersing in the local culture.
To top it all off, our 2022 3 days desert tours offer you a chance to trek through the desert on a camel's back, which is simply a can't-miss experience in Morocco.
So, if you'd like to go exploring, here are the best desert tours that you can take from Marrakech.
find more about the trip here
Why Should You Book Your Desert Vacation With Us?
Our Marrakech to Desert journey is unquestionably a must-do, bucket-list experience. It has frequently been voted the best tour in Morocco. And there's no way you're going to miss Morocco's best tour! It should, without a doubt, be at the top of your Morocco bucket list.
Furthermore, our firm employs knowledgeable and experienced professional guides. Thousands of satisfied customers from all around the world have benefited from our selfless and high-quality service over the past ten years. We have highly skilled drivers and a variety of cars to fit your demands and sorts of excursions, including SUVs, premium minibusses, and 4x4s. Our drivers and guides can also communicate in a variety of languages.
And, unlike other tour companies, we will advise you on which activities and itineraries are best suited to our preferences and budget. Simply contact us, and we will ensure that you have the desert trip of a lifetime.
How Far Is The Sahara Desert From Marrakech?
Merzouga, a small Saharan village and the entrance to the Erg Chebbi, is 561 kilometers from Marrakech via the Dades valley. The sand dunes of Erg Chegaga are the nearest to Marrakech. Marrakech is around 520 kilometers away.
How Do You Get From Marrakech To The Desert?
From Marrakech, there are various options for getting to the desert. Taking a guided desert tour from Marrakech, which includes round-trip transportation, is the finest and easiest way to visit this world-renowned desert. Merzouga and Zagora are accessible by bus from Marrakech. However, you'll need to organize a tour to see the Sahara when you arrive. Get an organized tour from us for a more convenient and hassle-free experience. It's a breeze, and it's really convenient and painless. It will, of course, include visits to other Moroccan highlights such as Berber villages and the Atlas Mountains. It's also far safer and more well-organized than any self-guided desert excursion.
How Much Do Desert Tours From Marrakech Cost?
Desert tours from Marrakech won't cost you a fortune. Prices for private tours start at the table below
| | |
| --- | --- |
| Trip Name | Price (1 individual) |
| 3 days Marrakech to Merzouga Sahara desert | EUR 250 |
| 3 days Marrakech to Merzouga Sahara desert | Pound 200 |
| 3 days Marrakech to Merzouga Sahara desert | US Dollar 290 |
table of prices for the Moroccan Sahara desert
For more information about prices, and what include check out here
Should I Book A Group Tour Or Private Trip To The Sahara Desert?
A private desert excursion from Marrakech might be advantageous in a variety of ways. Private desert vacations, for example, provide one-of-a-kind tours that may be personalized to your unique desires and interests. You don't have to stick to a schedule and can go at your own pace.
You're the ship's captain, which means you have complete control over your journey. You can even select preferences for persons who require particular help, such as elderly relatives, children, or people with medical or mobility issues.
On the other hand, taking a group tour can be a fantastic option. When compared to a private tour, it is less expensive.
When Is The Best Time To Visit The Moroccan Desert?
It doesn't matter what time of year it is! The Sahara Desert can be visited at any time of year. Visit it between May and October if you like warmer daytime temps.
Which Dunes Should You Visit In Morocco?
The Erg Chigaga and Erg Chebbi are two of the most popular and well-known sand dunes in the Sahara Desert in Morocco, respectively. And each one provides a unique and unforgettable experience.
The Erg Chigaga provides a more exhilarating encounter and is recommended for people seeking unique adventures. The Erg Chebbi is more accessible and is in close proximity to numerous contemporary hotels.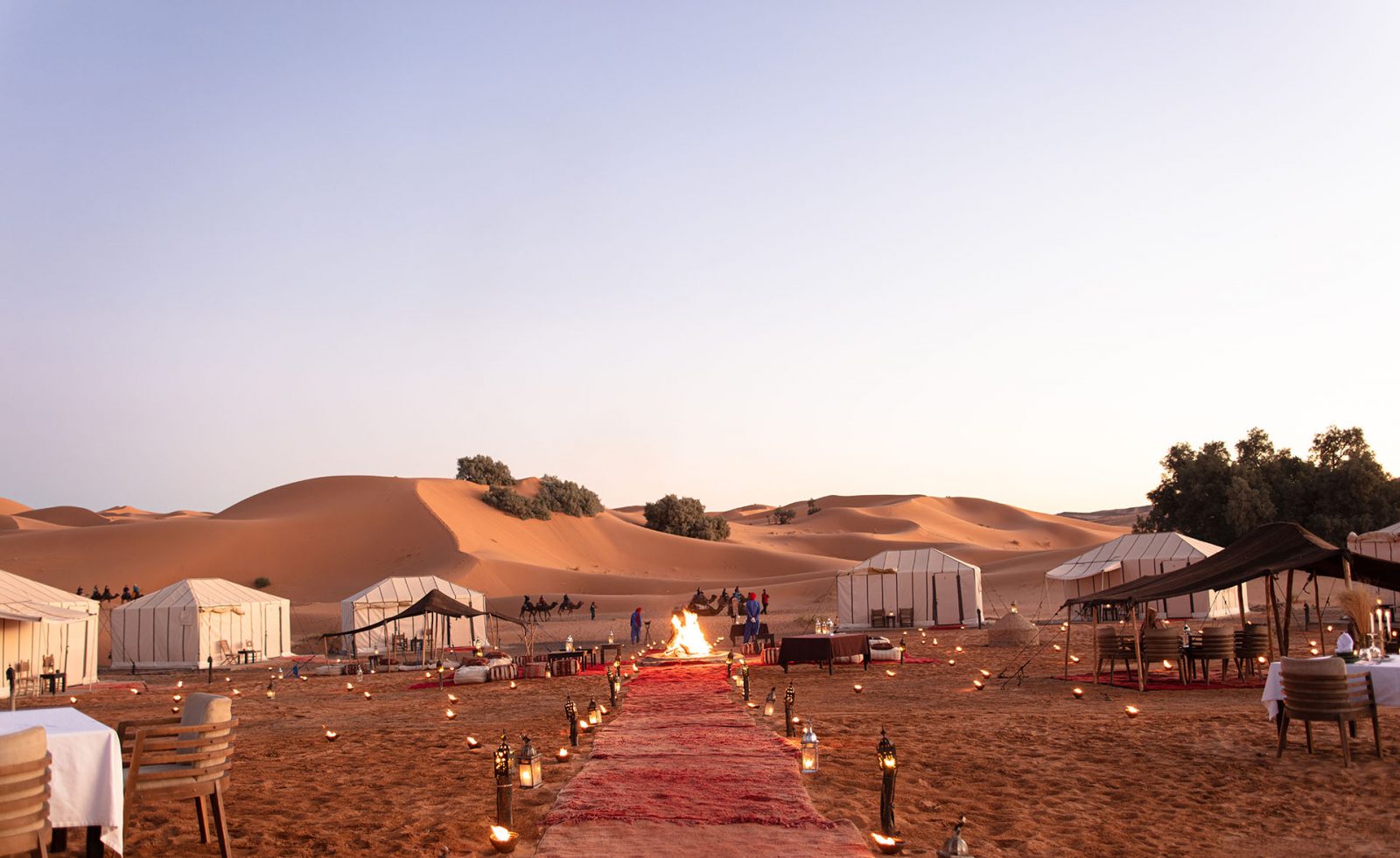 What To Pack For The Trip?
Our Marrakech desert vacations include a plethora of conveniences and luxuries. However, there are some personal goods and travel necessities that you must bring with you on your desert adventure. Here are some of the items you'll need to bring on your journey to the Sahara Desert.
You'll require toiletries.
A basic first-aid kit
Charge your electronic devices using a power bank
Flashlight for the camera
Sunscreen
What To Wear For Your Sahara Trip ?
Do you have no idea what to wear in the Sahara? Take a look at the following pointers and tips.
Jeans, trousers, or pants that are loose-fitting and comfortable.
Thongs should not be worn, especially when riding a camel.
Hiking boots or tennis shoes (sandals are not recommended when riding a camel)
Sunglasses and Hat
A long scarf to keep the sand and sun off your face.
If you're going in the winter, bring a jacket and a sweater.
Is The Sahara Desert In Morocco Safe?
There is no doubt that the Sahara Desert is a safe place to visit for anyone. Our explorations of the desert have lasted decades and we have never been in serious danger.
Is Morocco Safe For Female Tourists?
Morocco is a safe place to visit, even for alone female tourists from other countries. Thousands of women from throughout the world have traveled to Morocco and returned home safe and sound.
Nonetheless, you must remain cautious and aware of your surroundings at all times. Also, remember not to insult anyone.
What To Do In The Moroccan Desert?
The options for adventures in the Moroccan desert and seemingly endless. In the Sahara desert, you can go sand surfing, quad biking, and of course watching sunrise or sunset, spot wildlife, ride a camel and do some stargazing.
Should You Book A Desert Tour In Advance?
Absolutely, yes! It is important to keep in mind that our Morocco desert trips are extremely popular, so they usually sell out very quickly. Booking early will give you better hotel options.
What Is The Best Luxury Desert Camp?
On our website, you'll find a variety of fantastic and wonderful desert camp options. Explore our website to select the appropriate package for your preferences, style, schedule, and budget.
The Sahara Desert is unlike anywhere else on the planet. It's a spot that truly inspires awe, with its seemingly endless bleak landscapes and breathtaking sunset or dawn views. When night falls, the desert's magnificent, glittering stars will captivate you. The desert also provides a plethora of mind-blowing activities and diversions as an extra bonus. By booking your tour with us, you can make your desire of visiting this famous desert a reality. It will not only make your journey more pleasant and painless, but it will also provide you with plenty of entertainment options.