THE 3 PEAKS CHALLENGE IN MOROCCO
Tackle 3 summits over 4000m back-to-back on this tough traverse of the High Atlas, including the highest point in North Africa
DURATION

4 nights
LOCATION

Morocco
ANNUAL LEAVE

5 days off work
SEASON

May—Oct
GROUP SIZE

Up to 14 people
MEETING POINT

Marrakech Menara Airport
ACCOMMODATION

Classic
Riad · Mountain hut · Traditional riad
OVERALL RATING

Based on
 4.8/5
DIFFICULTY

Challenging
Full days of scenic hiking, loose footing, scrambling and altitude – you'll need a pretty good level of fitness for this one
Scramble to the top of Mt Toubkal (4167m) and the double summits of Mt Ouanoukrim: Timzguida (4089m) and Ras (4083m)​

Dates & Prices


Book a Private Trip

Hike through the Imlil Valley alongside Berber guides and your very own mule train
Stay in a classic Marrakech riad and scenic mountain refuges built in incredible locations
Recently Viewed Trips
START
FINISH
AVAILABILITY
ADULT PRICE FROM
OPTIONAL SINGLE SUPPLEMENT
THURSDAY
04 May 2023
MONDAY
08 May 2023
Guaranteed (Available)
USD 979
+USD 104
THURSDAY
08 May 2023
MONDAY
22 May 2023
Guaranteed (Available)
USD 979
+USD 104
THURSDAY
08 Jun 2023
MONDAY
12 Jun 2023
Guaranteed (Available)
USD 979
+USD 104
Available upon Request
THURSDAY
20 Jul 2023
MONDAY
24 Jul 2023
Guaranteed (Available)
USD 979
+USD 104
DAY 1
Explore Marrakech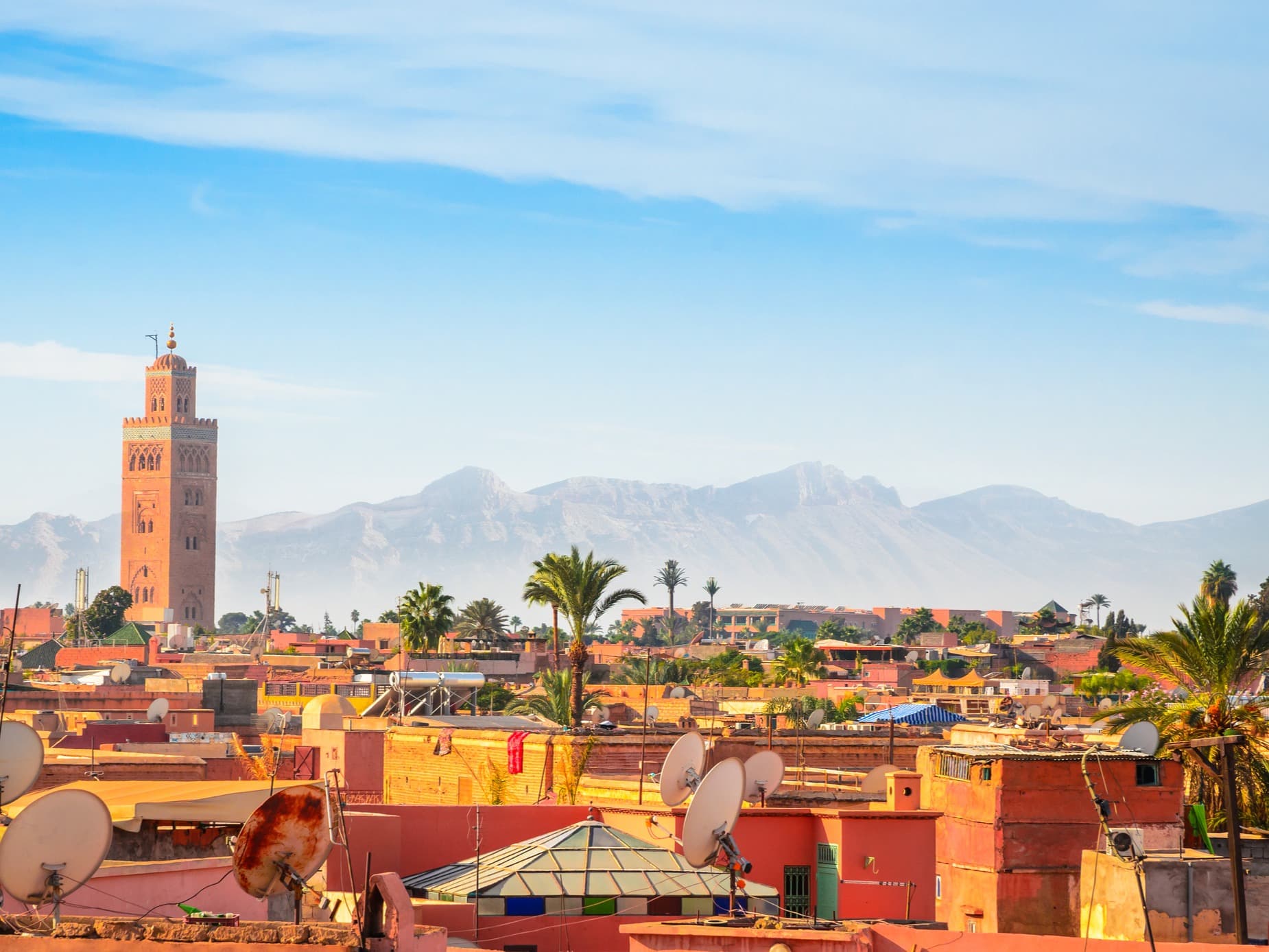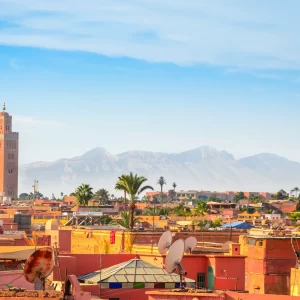 Fly into the colourful city of Marrakech and head to your traditional riad in the historic medina. Spend the day exploring the souk and the unforgettable main square/ever-changing show that is the Jemaa el-Fnaa – a place that's been beguiling and entertaining travellers for centuries. Finish the day with some amazing Moroccan food in a local restaurant.
DAY 2
The foothills of the Atlas Mountains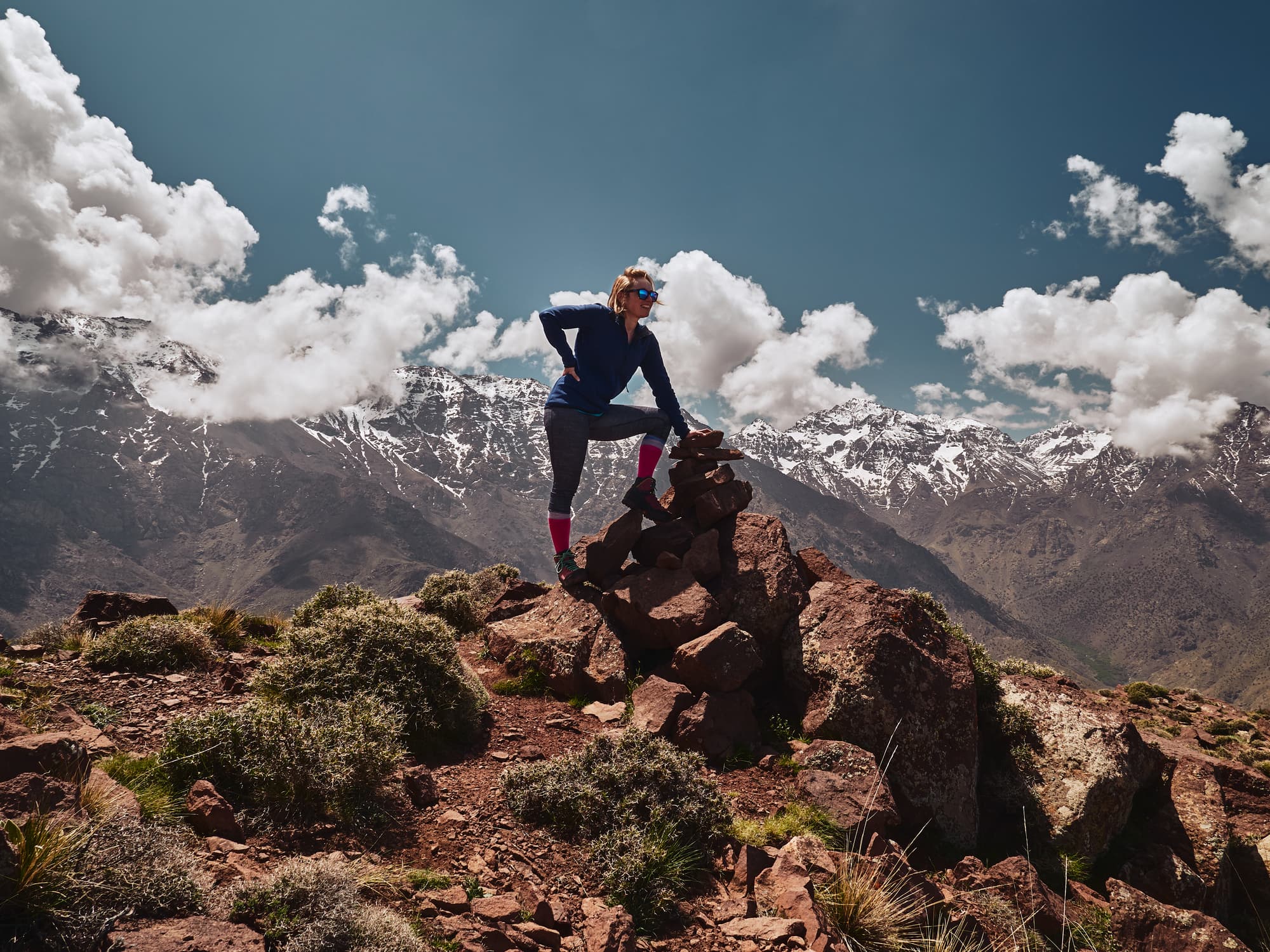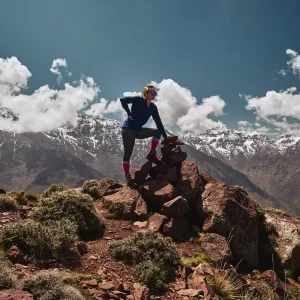 Hiking
6hrs · 10km · 1540m up · 300m down
Wake up early and drive through the foothills of the Atlas Mountains to Imlil, where you'll meet your support crew and start your trek. Gradually ascend the Toubkal Valley, pass Berber farming villages and stop for lunch on the trail. In the afternoon you'll arrive at the refuge. Settle in, meet other hikers and refuel with a well-earned dinner cooked by your support crew.
DAY 3
Bag two peaks in one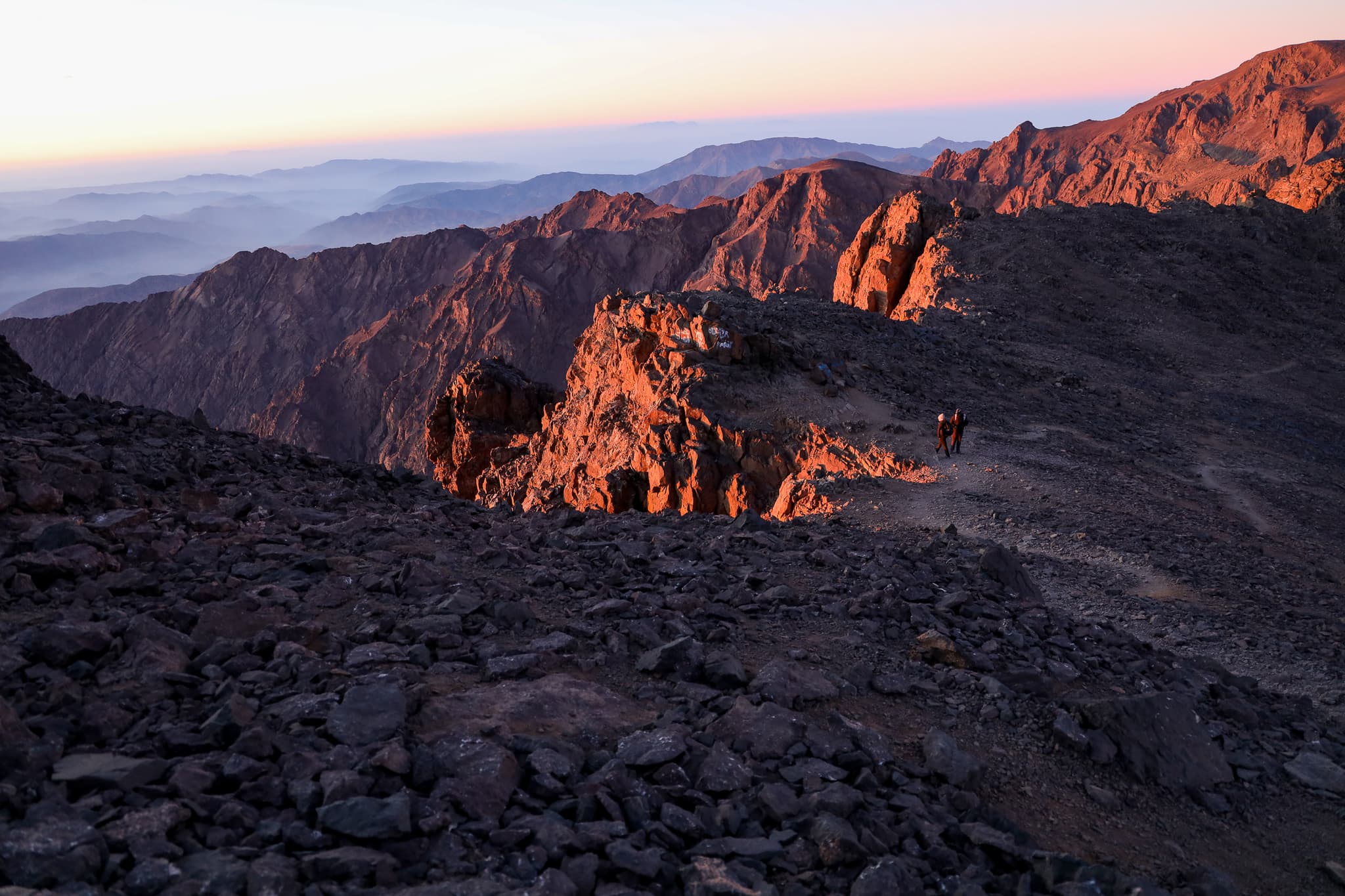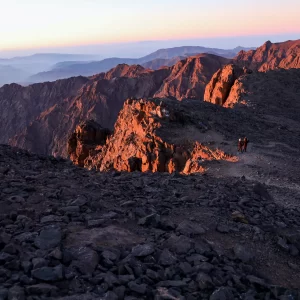 Hiking
6-7hrs · 17km · 1000m up · 1000m down
Today you'll climb Mt Toubkal's sister peaks; the Mt Ouanoukrim (4089m) 'twins', Timzguida (4089m) and Ras (4083m). You'll set off from the refuge and tackle a short scramble to ascend the ridge over the Tizi n Ouagane pass. Mega views to be had from the top as you stand atop the second and third highest peaks in North Africa. You can see all the way across the High Atlas range, including Mt Toubkal, your challenge for tomorrow. Head back to the refuge for a good sleep ahead of the final push.
DAY 4
The mighty Mount Toubkal (4167m)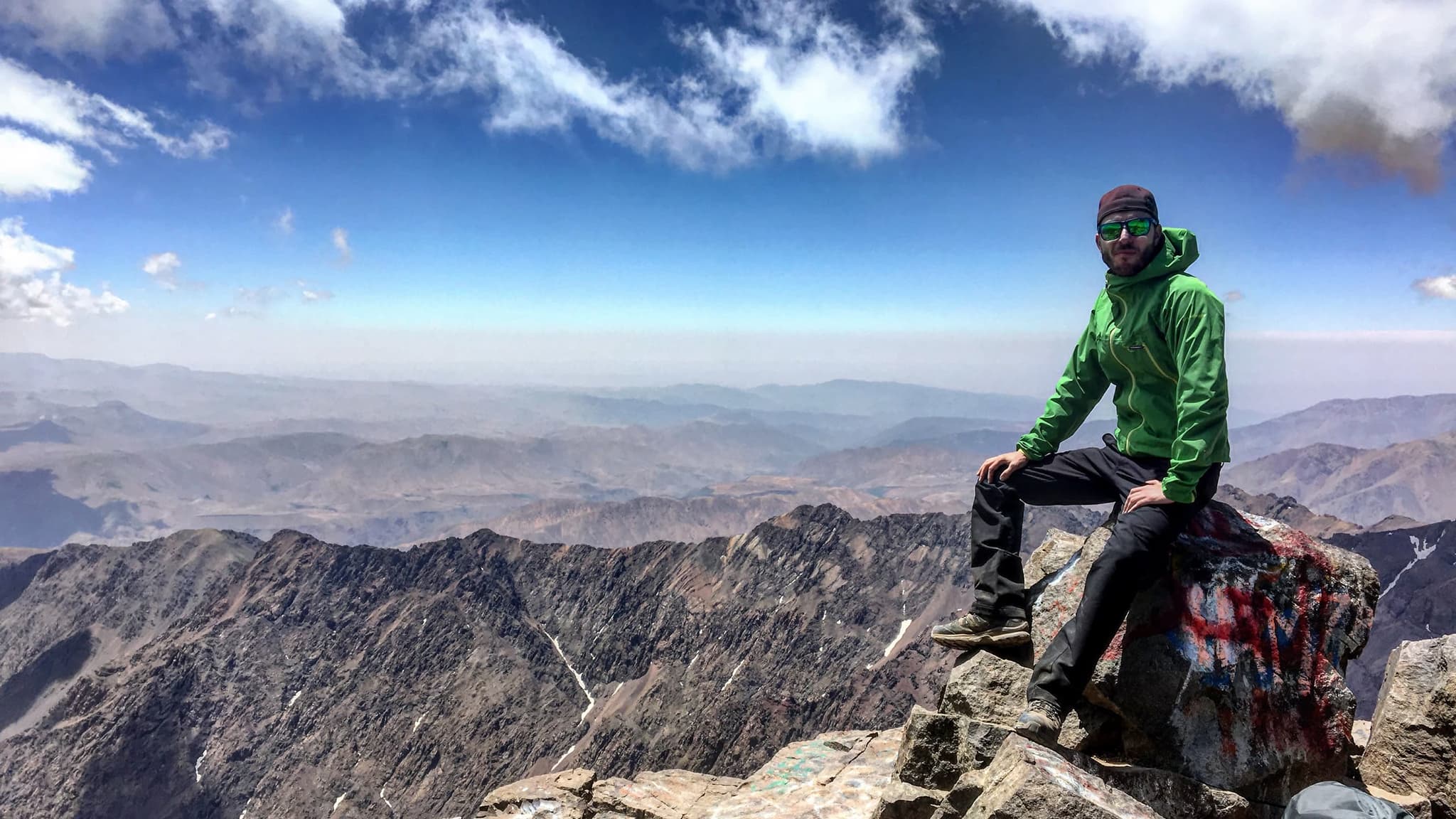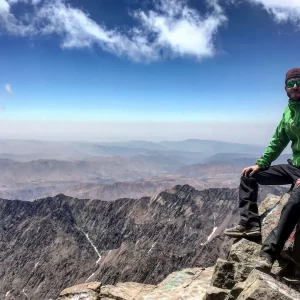 Hiking
10hrs · 17km · 1130m up · 2530m down
Two down, one to go! You'll leave in darkness and climb to the summit of Mt Toubkal (4167m) arriving in time for a beautiful sunrise over the Atlas Mountains and the Sahara Desert. Rest up, bag some epic pics and begin the long descent back to Imlil. You'll arrive at your riad in the early evening in time to find a restaurant for couscous or a tasty tajine before collapsing into bed.
DAY 5
Time to say goodbye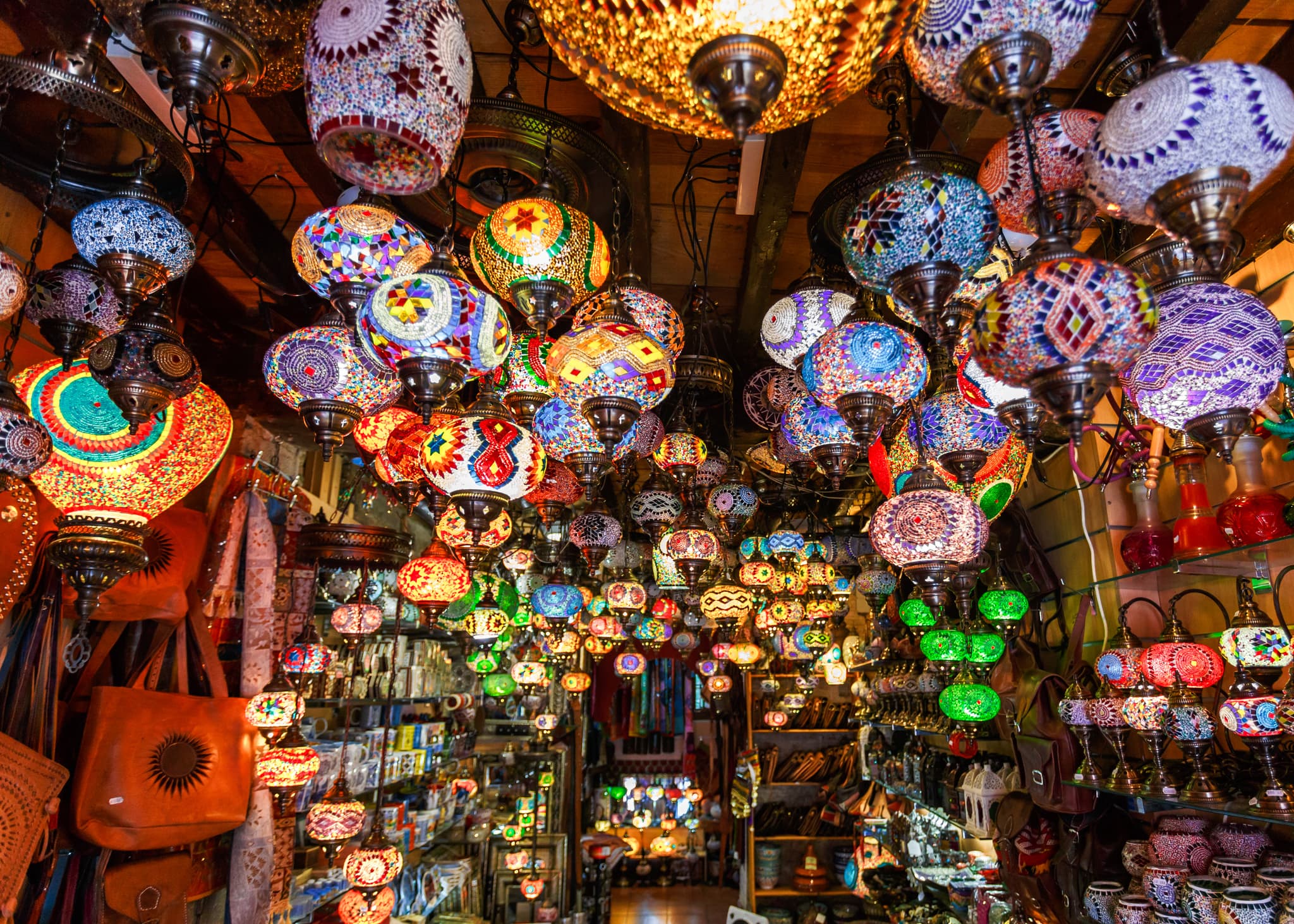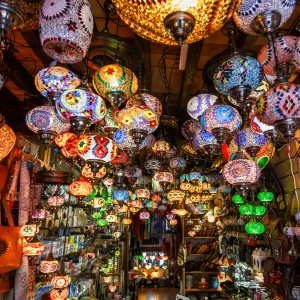 Relax over a last Moroccan breakfast and if you have time, explore the city and the souks some more, before heading back to the airport in time for your flight home.
  WHAT'S INCLUDED
INCLUDED
Guides
Expert, English speaking Berber guides
Accommodation
2 nights in a mountain refuge and 2 nights in a Marrakech riad
Meals
Munch on tasty food throughout
Transfers
To and from the airport and everything in-between
Porterage
Your very own mule train
NOT INCLUDED
Tips for your guides
Travel insurance
Flights to and from the meeting point
Visas where required
Day 1
Riad · Twin share
Breakfast
Lunch
Dinner
Day 2 – Day 3
Mountain hut · Mixed dorm
Breakfast
Lunch
Dinner
Day 4
Traditional riad · Twin share
Breakfast
Lunch
Dinner
Day 5
Departure day
Breakfast
Lunch
Dinner
WHAT IS THE FOOD LIKE?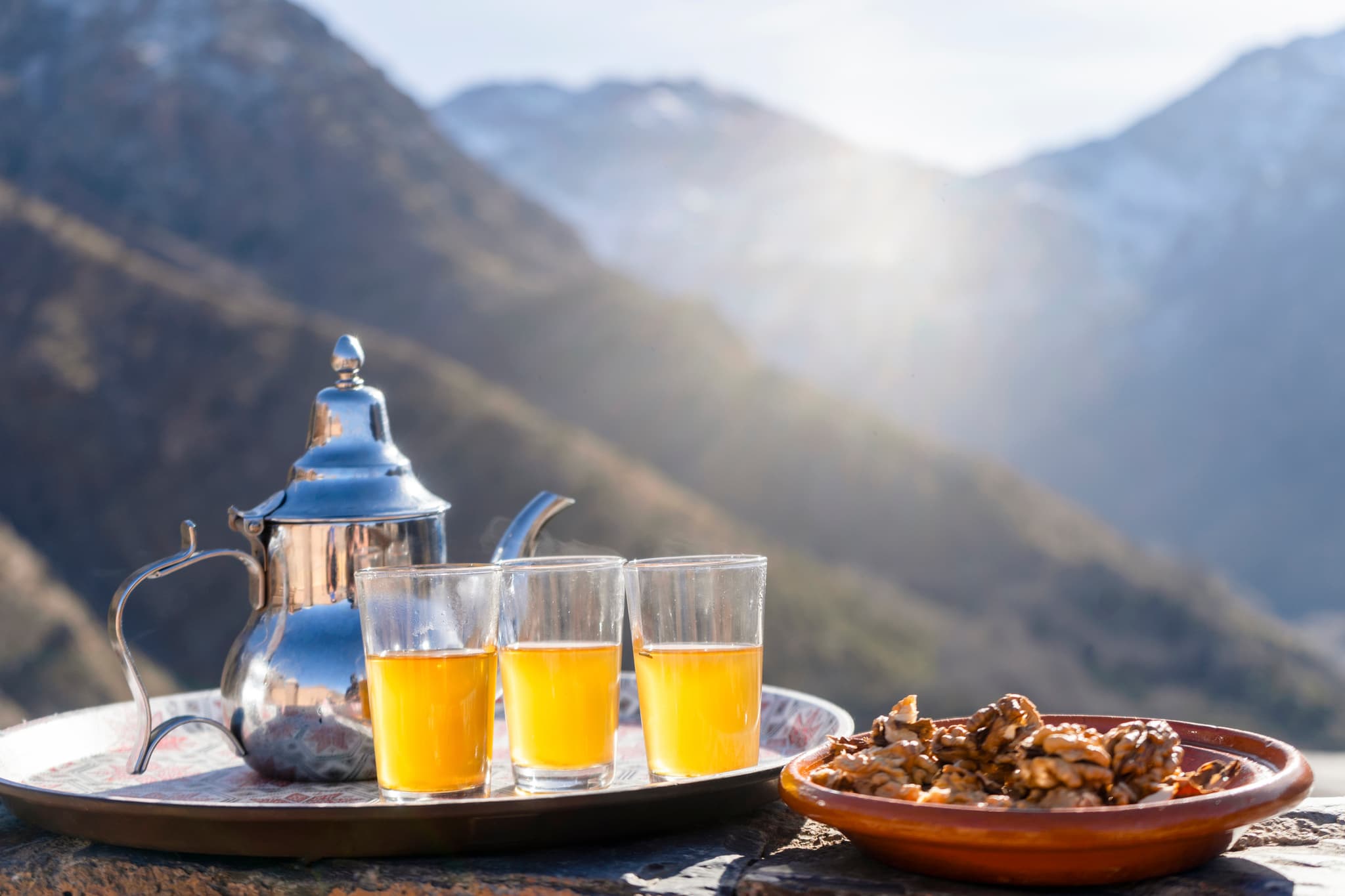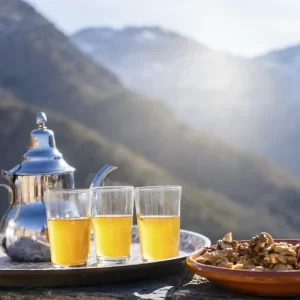 Moroccan food is a unique blend of sweet and savoury flavours. Local specialities include tajines (a stew cooked in an earthenware pot), couscous and pastilles (flaky pastries stuffed with meat and dusted with cinnamon and sugar). Food is often spiced with cumin, turmeric and ginger.
Meals on the trek are fresh, healthy and cooked by your Berber muleteers. Breakfast will usually feature bread, jam, cookies, fruit, juice, coffee and milk; while lunch will feature salad, tomatoes, carrots, lentils, beans, rice or pasta, fish (sardines, tuna) and seasonal fruit. Dinner will usually include soup, a classic Moroccan tajine, couscous, olives, nuts and fruit.
Vegetarians, vegans and other dietary requirements and allergies can be catered for – please just request on your passenger info form.
WHAT IS THE ACCOMMODATION LIKE?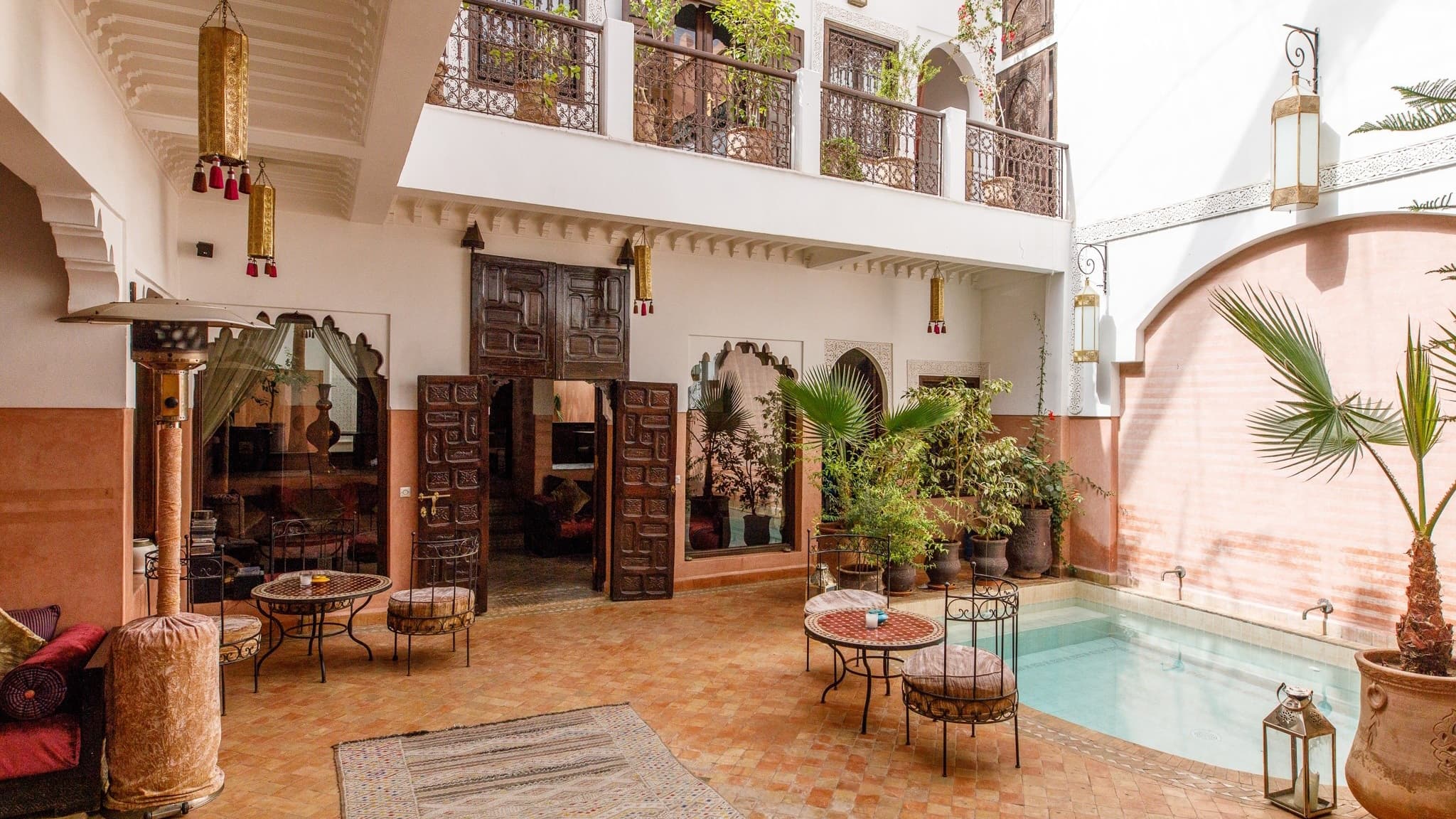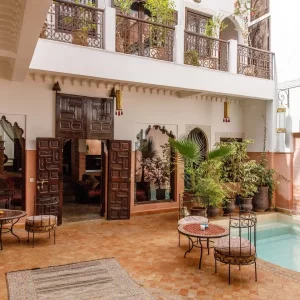 MARRAKECH
You'll stay in a beautiful riad – a traditional Moroccan house with an interior garden or courtyard. The exact riad will be confirmed nearer the time based on availability and group size, however, all are chosen for their excellent reputation, location, beautiful decor and welcoming service.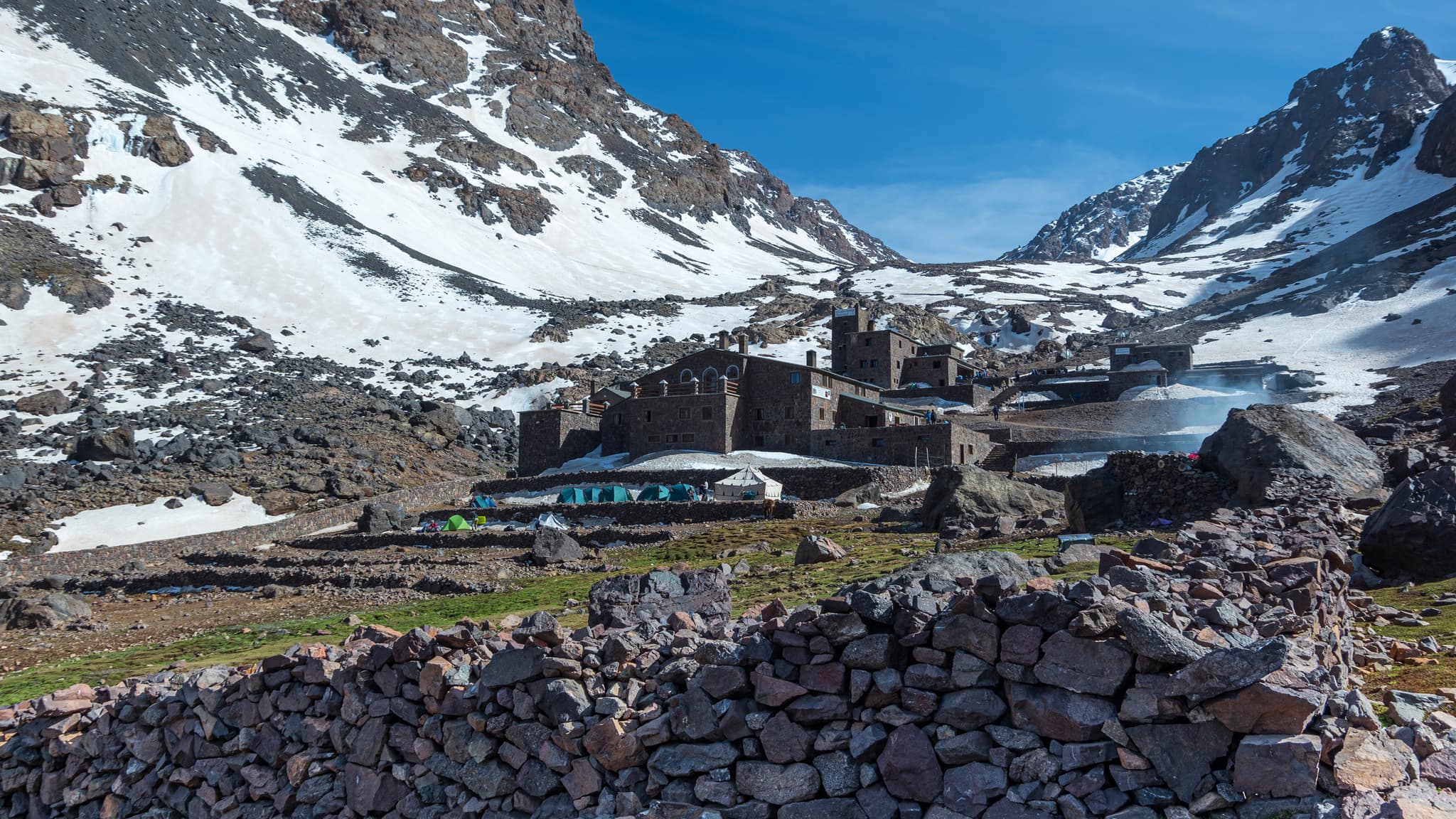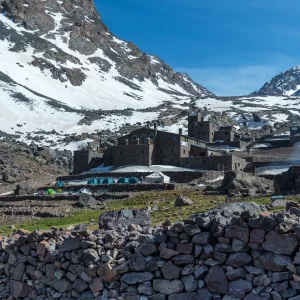 ON THE TREK
You'll stay in the Mouflons mountain refuge located at 3,207m. Facilities are basic, with bunk-bed dorms, however, there is a fun, social area to relax in the evening and chat with other climbers from all around the world.
UPGRADES
For solo travellers looking for their own space, an optional private room can be booked for an extra charge for the nights in Marrakech, see Optional Extras for the price. Please request this at the time of booking (this is subject to availability and they are very limited due to the layout of traditional riads).
THE AREA
LOGISTICS
Starts
Marrakech Airport (RAK)
Arrive any time on Day 1
Ends
Marrakech Airport (RAK)
Leave any time on Day 5
Transfers
Private transfers between the airport and your riad are included for any time (and day) you choose to arrive or depart.
Travel options
There are daily flights to Marrakech from major airports across the UK and Europe.
Enjoy 12.5% Off Outdoor Gear
In need of a few more items? All bookings receive a 12.5% discount to use at Cotswold Outdoor, Snow + Rock and Runner's Need.
WHAT'S INCLUDED?
Sleeping bag (you can bring your own if you like)
WHAT DO I NEED TO BRING?
Rucksack or duffle bag (carried by mules)
Day-pack (carried by you)
Waterproof shell jacket
Waterproof shell trousers
Trekking shorts
Trekking trousers
Wool/microfleece top
Long sleeved light layer tops (2-3)
Light base layer leggings/running tights
Warm hat and light gloves
Trekking socks
Lightweight, sturdy trekking boots with ankle support (broken-in)
Flipflops/crocs
Walking poles
Sun protection (hat, sunglasses, sun block)
Small first aid kit/personal medication
Personal toiletries
Sanitary supplies (toilet paper, wet wipes, and ziplock bags to carry stuff out)
Head torch
Water bottle (2 x 1L)
High energy snacks/drinks
Travel towel
Sleeping bag liner, if desired
For April departures, it is likely there will still be snow on the ground, so a set of thermals and an extra fleece/layer will come in handy. Warm gloves and socks will also be well used.
We've crunched the numbers to work out the total carbon footprint of this trip, and plant enough trees to suck 2x as much back out the atmosphere.
What's the number?
It works out on average at 222kg of CO2 emissions per person, including all local transport, accommodation, food, activities, guides, staff and office operations.
The only thing it doesn't include right now is flights and travel to the destination. We do make an overall estimate across all our customers separately, but as we don't book flights, have customers from all corners of the world, and no way of reliably knowing their travel plans, we simply can't include an individual number in the figure on display here. We've got a goal for 2023 to fix that, so that when you book, there is a way to measure and mitigate the carbon emitted by your flight too.
But what does the number mean?
Yep, hard to picture eh? To give you an idea:
Driving 1000miles/1609km would be approx. 281kg of CO2 in an average car (or 140.5kg per person if there was 2 of you in it).
A return economy class flight London – New York would be approx. 1,619kg (1.66 tonnes) per person.
10 trees in a temperate forest are estimated to remove approx. 250kg of CO2 from the air in a period of 5-10 years.
What are we doing about it?
Our trips are relatively low-carbon by design, and we're working with all our hosts to develop long term carbon reduction plans. For every person booked with us since 2016 we're planting enough trees to suck at least 2x more carbon out the atmosphere than is emitted by their trips. All native trees, as part of amazing projects that are re-foresting degraded land, tackling the biodiversity crisis and supporting local communities at the same time. We go further than that too, also funding re-wilding projects worldwide to help protect important keystone species from extinction. See the reforestation and re-wilding schemes we support. See our carbon action plan.
Want to know more?
Amazingly, no international travel company has ever publicly published their carbon measurements before, as far as we know. We believe that must change, quickly. So we're openly sharing the method we used in the hope that other companies will be able to more easily follow suit and build on what we've done so far. You'll find it all here.
MEGAN(October 2022)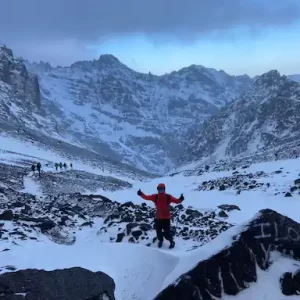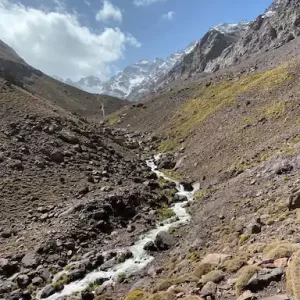 The trip was seamless from airport pick up and drop off, staying in the Marrakech riads, transport to the mountains and the hike. Plentiful, healthy food and super guides Mohammed and Ibrahim. If going in October, prepare for all weathers: warm and waterproof clothing.
– TAMARA(October 2022)
Amazing hike in an exotic location; I had a great time – our guides were excellent and the logistics extremely organized. I would definitely recommend this adventure
 – GERARD(October 2022)
Generally good adventure.. don't expect sunshine all the time.. pack for all elements.
 – SIAN(September 2022)
Our guides were fantastic, really kind and great fun. The trek was hard but really rewarding. Make sure you bring plenty of layers and wind proof gloves as it was incredibly cold and windy on the walk up in the dark. The views make it all worth it.
 – PAUL(September 2022)A fantastic trip to the Atlas mountains. Great memories, great group of like minded people, great guides. 5* all the way. After getting back from the Norwegian hike, kayak trip from MBA in May, we booked this Morocco trip. The views on this trip were outstanding and a beautiful adventure in general. When you get back to Marrakech, you should definitely experience a Hammam at Le Bain Bleu. Superb relaxing experience to finish off your trip. – OLWYN(September 2022)The 3 peaks in Morocco was a great trip – the local guides were very knowledgeable of the region and very experienced hikers, so we learned plenty during our hikes in addition to seeing the amazing views of the mountains at sunrise and sunset. The additional twin peaks prepared our group well for Mt Toubkal on the final day and it gave us loads of time to swim in the waterfall near the accommodation. – KATARZYNA(August 2022)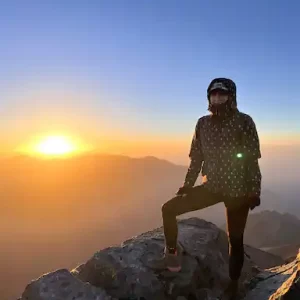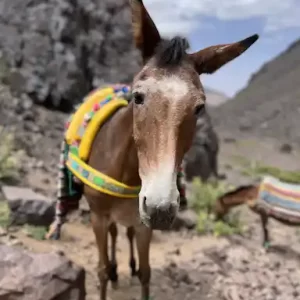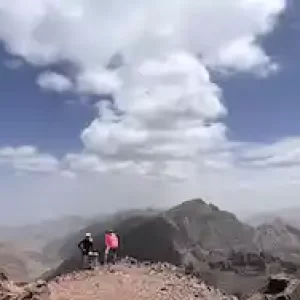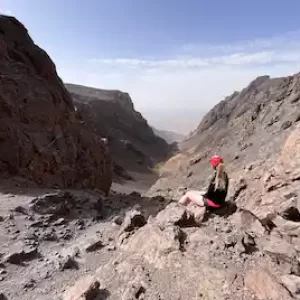 The hike was an amazing experience, challenging but so worth it! We really loved our guide, Muhammad, and the other staff. There's nothing to complain about and I highly recommend this adventure.
– KASIA(August 2022)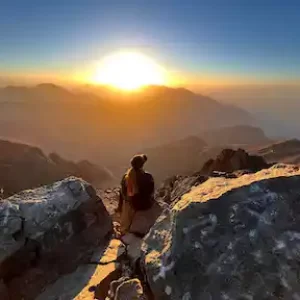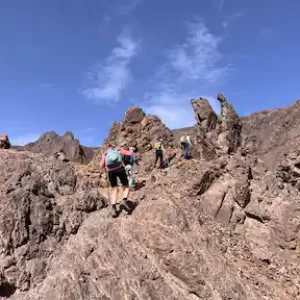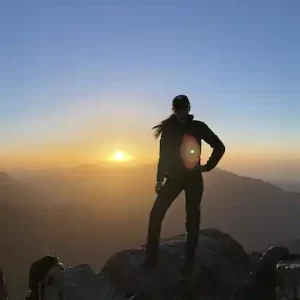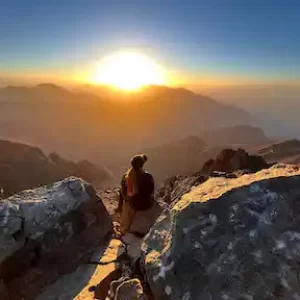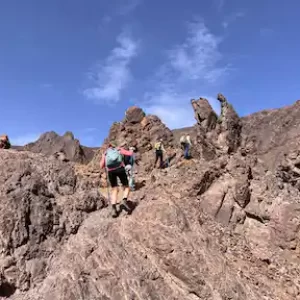 This was one of the best adventures I have ever been on. Starting from the Riad in Marrakesh and the beautiful markets to summiting Toubkal. The trip was operated smoothly in terms of pick ups, transfers, acommodation. Our guide Mohamed was fantasti
… Read more – MARK(August 2022)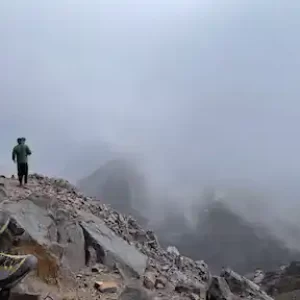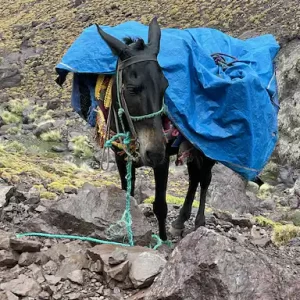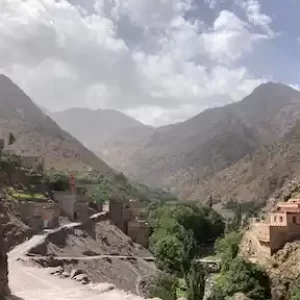 Fantastic trip in amazing surroundings with fantastic guides
– KIRSTIN(August 2022)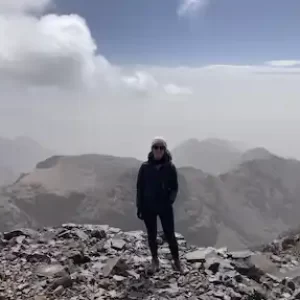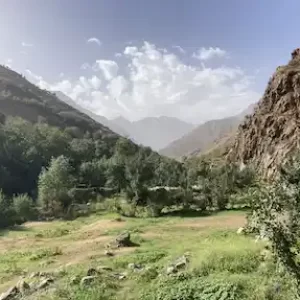 An incredible adventure! It was tough but very rewarding. The guides were fantastic and the food and accommodation were great too.
OPTIONAL EXTRAS

Pre/Post Trip Accommodation Double/Twin Room
Payable Before Departure
Pre/Post Trip Accommodation Double/Twin Room
$76 Per Night
Pre/Post Trip Accommodation Single Room
Payable Before Departure
Pre/Post Trip Accommodation Single Room
$76 Per Night
Optional Private Room Upgrade
Payable Before Departure
Optional Private Room Upgrade
$78
FREQUENTLY ASKED QUESTIONS

Full days of scenic hiking, loose footing, altitude – you'll need a fairly good level of fitness for this one. The walking, however, is of a moderate difficulty and relatively straightforward and the views make the journey more than worthwhile!
Sure can! Over 50% of our travellers travel solo, it's a great way to meet like-minded people.
In the summer months, Marrakech is very warm, with temperatures regularly exceeding 35°C. The temperature in the mountains is a lot cooler, averaging 10 – 15°C and dropping below 10°C at night. If you are travelling at the beginning or the end of the season, it can drop to 0°C at night or early in the morning so ensure you pack some extra layers.
View detailed weather for the area here on Mountain Forecast
Mules will carry your main overnight luggage during the trek and you will need to carry your daypack with your daytime essentials (extra layer, snacks, water etc.). For the welfare of the mules, please ensure your main overnight luggage is in a soft-sided bag and weighs no more than 15kg.
Absolutely! We recognise that you may want to leave some of the kit you bring to Morocco somewhere safe before you start your trek. When you reach Imlil, you will be able to leave any non-essential items you don't want to take on the hike at your local guide's base there.
Your host works with Muleteers who collaborate with local charity, Spana, (The Society for the Protection of Animals and Nature) on the AMI program (Aid to the Mules of Imlil). The charity provides training, guidance and incentives to mule owners to encourage and support good care for their animals in all aspects of their working lives. The program also provides a monthly clinic which offers free veterinary care to the animals and the distribution of humane tack.
We recommend checking out the country specific information here and also talking to a travel nurse.
For current advice about travelling in Morocco, have a read of the UK Foreign Office pages here.
Tips are not included in the trip cost. These are entirely at your discretion but there is an expectation to tip for good service. Your guide will help with advice however we suggest a minimum of 150 – 200 Dirham per person.
Of course, you are free to tip more or less and the amount should be reflective of your perception of service and quality – a tip is not compulsory and should only be given when you receive excellent service.
Ramadan will take place from 22nd March to 20th April 2023 and 10th March to 8th April 2024. The national holiday of Eid ul-Fitr will follow for 2-3 days. Ramadan is an Islamic festival where the religious do not eat or drink during daylight hours. While this is a really interesting time to travel, especially to witness celebrations where the fast is broken in the evenings, you can expect some business hours will be shortened, alcohol is not permitted during daylight hours and some restaurants will be closed during this festival period. Activities for local people tend to be limited during the day and the nights are very active in cities with lots of different foods being sold and consumed. Ramadan will not affect the inclusions on your trip although you should be aware that dinners will be served after locals break their fast in the evenings.
Our recommended travel insurance provider is Campbell Irvine.
Travel insurance is compulsory on all of our adventures. Your insurance should include adequate protection for overseas medical treatment, evacuation/repatriation, your baggage and equipment and the specific activities involved on your adventure.
Your insurance policy should also include specific Covid-19 cover, including cancellation and curtailment cover if you, your travel companion or a close relative are diagnosed with Covid-19.
We fully endorse Campbell Irvine as their insurance offers all of the above, so get in touch with them or call on 020 7938 1734 to get your insurance sorted. We suggest that you book travel insurance as soon as you book your adventure, just to cover you for any last minute life changes. We know you're an active lot and injuries do happen!
We automatically convert prices from the local currency that a host receives to your chosen currency. We update our exchange rates on a daily basis so this does mean that prices displayed on the site are subject to currency fluctuations, which is why you may see them change over time.
If you wish to change the currency you pay in, head to the bottom of the page.
All of our group adventures are specially designed for adults to enjoy (18+) as we want these adventures to bring together outdoorsy people who are truly like-minded. Children can be accommodated on some private departures.
You're in good company. Our adventures are typically made up of a mix of solo travellers and small groups of two or three friends who simply love adventure, pushing themselves and meeting awesome like-minded people. See here for more info about our lovely bunch of Much Better Adventurers.
Want to book a private trip? Just tap 'Private Group' in the dates and prices tab.
Your trip is led by carefully curated local hosts and expert guides. See here for more info about the guides we work with.
FROM $529

Dates & Prices


Book a Private Trip

Full Financial Protection

Your money is safe. Every booking is fully financially protected.
This is the heading

You can choose to pay for this trip in as many installments as you like, with no interest or fees.
Add Your Heading Text Here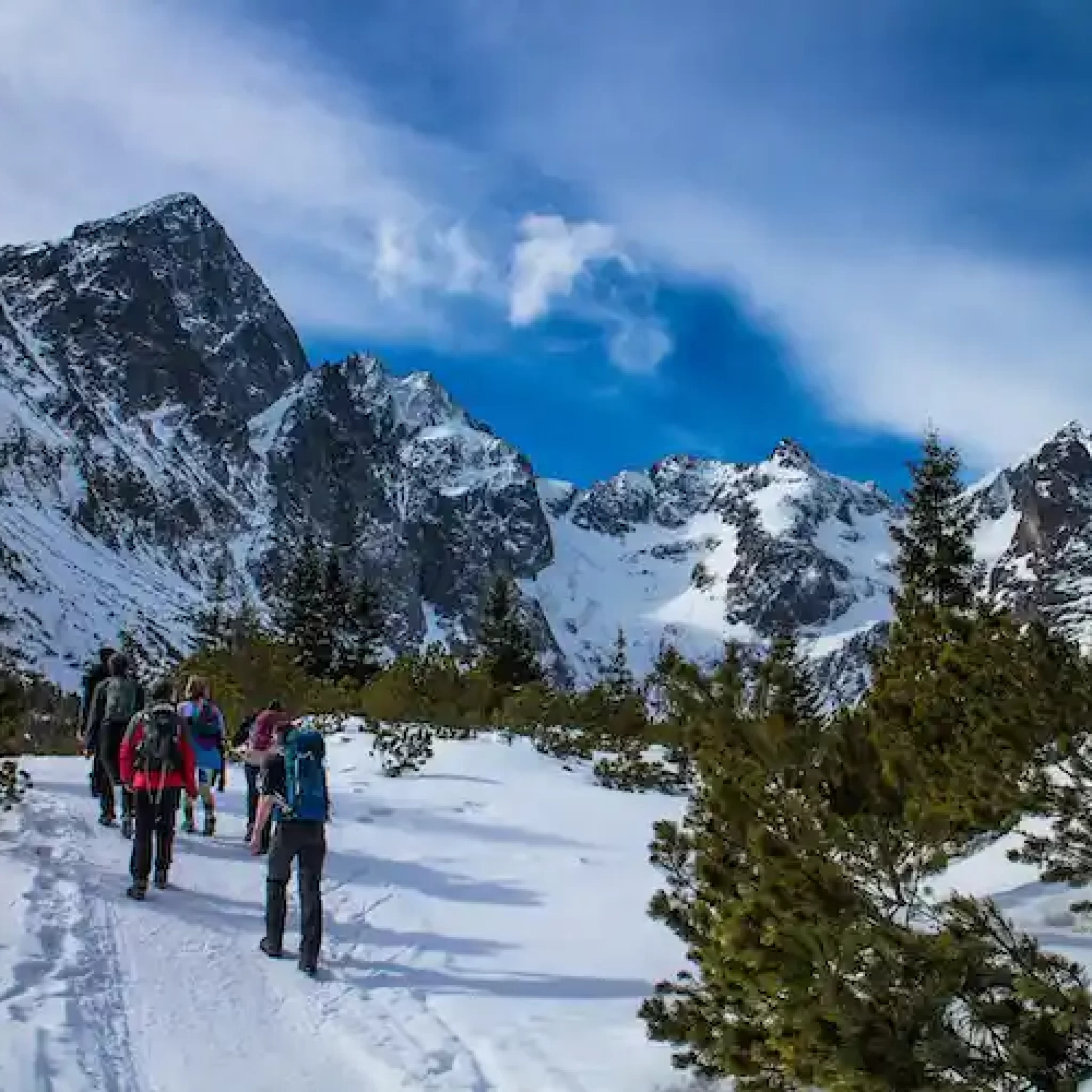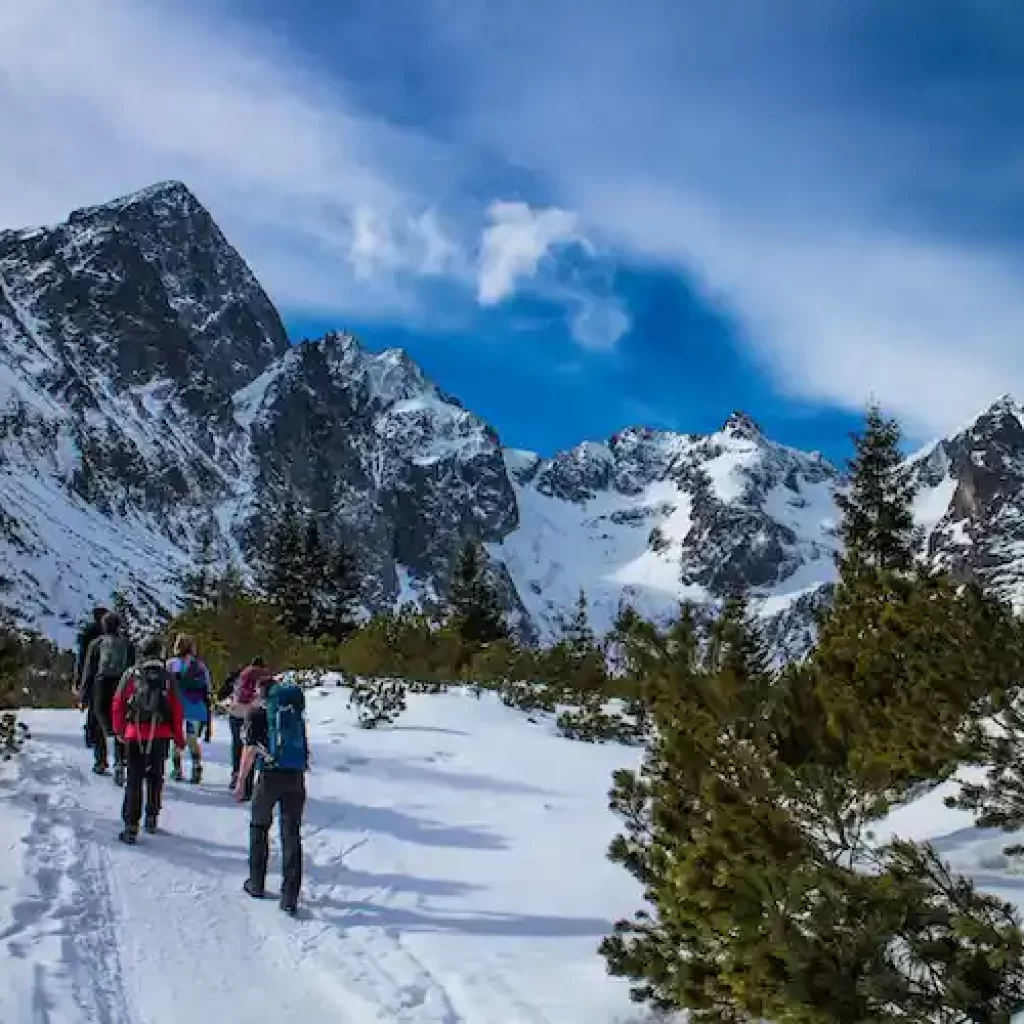 POSITIVE IMPACT ADVENTURE TRAVEL
We're part of a growing global community of businesses that are walking the walk when it comes to sustainability.
Our Story
Sustainability
Our Community
Our Hosts
Our Team
The Much Better
Foundation
Careers
Happiness Guarantee
Subscribe
Help
Foreign Travel Advice
Cookies
Privacy
Terms
Apply to host
Help
Media